For many, the holidays are a time to be with family and friends as the year comes to a close. From decorating the house to getting cozy with a warm drink, there are many ways to show your holiday cheer. But what happens when you're in a funk that even the most cheerful tunes can't fix? In this case, you may be struggling with holiday depression.
According to a survey done by the National Alliance on Mental Illness, over 60 percent of people in the United States reported that symptoms of their mental illness worsen around the holidays. High expectations, feelings of loneliness, and increased levels of stress are cited as some of the reasons individuals feel the holiday blues.
If you're struggling with holiday depression this season, don't wait until the new year to seek help. Below, you will learn more about how the holiday season impacts mental health and why it's important to talk to a mental health professional now rather than waiting until you start working on your New Year's resolutions.
Do I Have the Holiday Blues?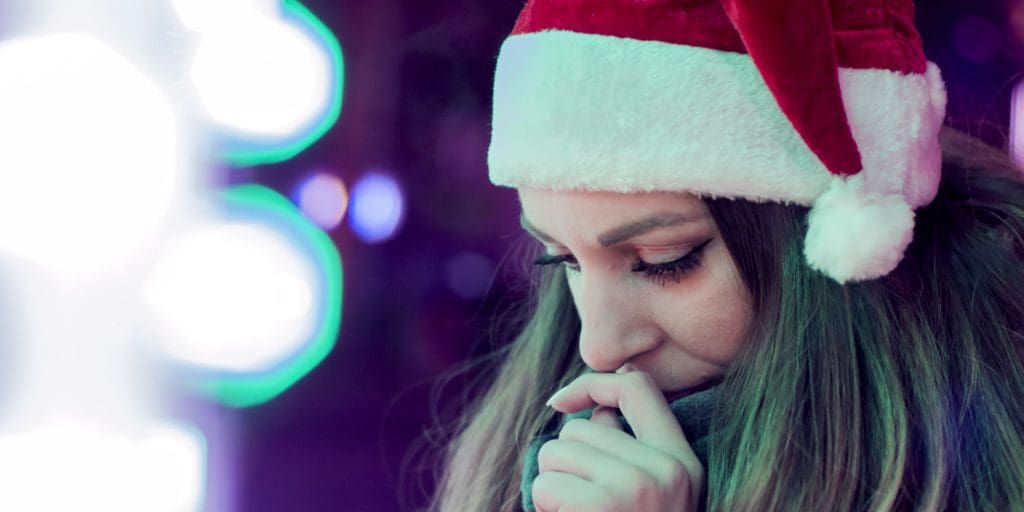 The holiday season can be a time for happiness and rejoicing. But it can also be a time that brings stress and sadness. Even those who love the holidays can experience the holiday blues. But what does that look like?
Holiday depression often arises as a result of holiday stress. This time of year is known for its high expectations and demands that are often unrealistic. Together this can cause individuals to feel overwhelmed and saddened, especially if this year looks different than previous years.
---
Take your first step towards recovery.
---
The holiday blues aren't classified as a psychiatric condition according to the DSM-5. However, a mental health professional can assess your symptoms to determine any underlying conditions that are getting worse around the holidays. They will also help you find the best course of action to minimize and manage your symptoms.
Short-term mental health concerns such as holiday depression should be taken seriously. Without treatment, it can develop into major depressive disorder (MDD), commonly referred to as depression, or other mental health conditions.
Symptoms of Holiday Depression
One of the most common symptoms of holiday depression is a persistent feeling of sadness that starts during the holiday season. However, a variety of factors can impact the duration and severity of these symptoms. Additionally, some people may feel sad for the entire season while others may temporarily experience improved moods.
With that in mind, other symptoms of holiday depression include:
Changes in appetite or weight
Changes in sleep patterns
Difficulty concentrating
Feeling depressed or irritable
Feeling more tired or fatigued
Increased anxiety
Loss of interest in previously enjoyable activities
These are similar to symptoms of depression that require treatment to manage. Talk to your doctor if you notice any of these symptoms. Untreated mental health symptoms can worsen over time, making them more difficult to manage.
What Causes Holiday Depression?
Although the holidays are meant to be a time of joy, many people struggle to feel happy for a variety of reasons. Some causes of holiday depression include:
Lack of sleep
Financial stress
Isolation and loneliness
Loss and grief
Increased alcohol and drug use
Unrealistic expectations
The holiday season creates unique challenges that may not be present at other times of the year. Many adults, especially women, take on extra responsibilities. From shopping for presents to cooking and cleaning for more family members, the seemingly endless list of duties leads to burnout. On the other hand, those who are unable to spend time with loved ones because of distance, estrangement, and loss may struggle with feelings of sadness and loneliness.
These situations can be stressful and triggering, especially for those struggling with another mental health condition. As a result, some adults turn to unhealthy coping mechanisms such as drug and alcohol use and overeating. Moreover, unmet expectations or goals for the season can compound these feelings, causing feelings of guilt and shame. Therefore, it's important to keep an eye on how you're feeling. If you're noticing signs of holiday depression, don't be afraid to seek help from a mental health professional before they become unmanageable.
How Common Is Holiday Depression?
Seasonal affective disorder (SAD) is sometimes referred to as holiday depression. They can be difficult to tell apart because the symptoms are similar and they both occur primarily during the winter months. Research suggests that a combination of a lack of sunlight and an adjusted circadian rhythm is responsible for the symptoms of SAD. This results in yearly overeating, sluggishness, and depression. Combined with the pressures of holiday tradition, many people begin to struggle.
A small percentage of the U.S. population has seasonal affective disorder, but it affects up to 20 percent of people with MDD and 25 percent of those with bipolar disorder. Experiencing SAD around this time of year can worsen symptoms of those disorders.
However, not everyone's holiday blues are caused by SAD. If the holiday season passes and you still feel sad, it's time to talk to your doctor. This can help determine if you're struggling with a mood disorder such as SAD, MDD, or another condition that requires treatment.
Getting Help for Your Holiday Depression
In some cases, holiday depression can be managed by lifestyle changes during the holiday season. You can plan, set realistic expectations, and budget to help you act with intention. However, if feeling depressed is part of your seasonal pattern, it might be best to seek professional help.
Professional treatment can help you identify your stressors and cope with them as they happen. The comprehensive adult psychiatric program at Ridgeview Hospital treats a variety of disorders through a variety of methods. Moreover, flexible and individualized plans help patients effectively reach their goals during treatment. Some of the services this program offers include:
Person-centered therapy
Group therapy
Process groups
Psychoeducation groups
Recreational therapy
Proactive discharge planning
Our experienced professionals utilize a combination of evidence-based therapeutic modalities so patients follow a treatment plan best suited for their recovery. Taking the step to get help can be scary, but don't wait until the new year to start improving your mental wellness. Your mental health is a priority no matter what time of year it is.
Contact Ridgeview Hospital Today 
Ridgeview Hospital, located in Middle Point, Ohio, is dedicated to helping adults who are struggling with their mental health at any time of the year. If you need help managing your depression before, during, or after the holidays, don't wait to reach out. You can call us by calling 419-968-2950 or by filling out a confidential contact form online. With our support, you can overcome the symptoms of holiday depression.